Lake District horse speed limit plans to be amended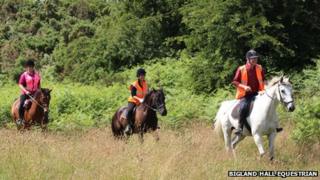 Proposed guidelines which would limit horse speeds will be amended, the Lake District National Park Authority (LDNPA) has said.
The authority is consulting on a code of conduct for the way public routes in the Lake District are used.
The draft code suggests horse riders should not go faster than a trot and should move the horse away from the track or road "before it dungs".
But following feedback, the authority has said it will amend the wording.
Sheelagh Myers, who runs Bigland Hall Equestrian riding centre in Ulverston, Cumbria, said limiting horses to a trot was "entirely impractical".
'Illegal'
She added that it was impossible to "anticipate a poo" in order to move a horse aside.
The draft code of conduct is under consultation and when the final version is published, it will not be legally enforceable, but rather a behavioural guide.
But Ms Myers said landowners were misinterpreting it as law.
"We had an incident only last week where a farmer said to a rider that it's illegal to canter on a bridleway," she said.
Dave Robinson from the LDNPA said the code had been developed in response to concern from residents over the use of routes shared between different groups, such as cyclists and horse riders.
He said: "Some of the wording that we've used needs to be changed.
"One of the things that we're looking at is that we'll say something like, 'Ride at a pace that is appropriate for the conditions on the day.'"
The consultation on the code of conduct is open until 20 June, he said.