Haverigg Prison: Inspection highlights gang violence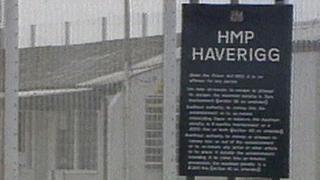 Inspectors say "significant improvements" are needed to make a Cumbrian jail safe for inmates.
Gang violence, poor staff supervision and high instances of force being used to restrain inmates at Haverigg Prison were highlighted in a report.
Chief inspector of prisons, Nick Hardwick said some improvements had been made since the last unannounced inspection in 2011.
But he said the outlook for its 650 inmates was still "not good enough."
Inspectors said poor lighting and CCTV cover added to problems for staff at the prison, which is on the site of a former RAF base and where inmates are housed in billet-style blocks dating back to the 1940s.
'More support'
Mr Hardwick said the inspection team were satisfied with health care, training and work placements at the category C jail, which is one of the most isolated in England.
But he added: "Prisoners who kept their heads down, made the most of the opportunities on offer and whose needs were typical of the prison's population as a whole would probably do reasonably well at Haverigg.
"However, those who needed more support or whose needs differed from the majority might have a less positive experience - sometimes to an unacceptable degree.
"Progress is being made and a positive, experienced staff group have created the foundations for further progress.
"But some processes need to be significantly improved and managers need to give close attention to ensuring that poor practice is challenged and improved."
Michael Spurr, chief executive of the National Offender Management Service, said: "The wide range of work, training and education is helping to rehabilitate and resettle offenders and the governor and his staff deserve real credit for the continued improvement.
"They will now use the recommendations in the report as part of their ongoing plans for the future."