Appleby Horse Fair: Pubs to limit opening times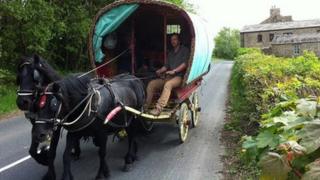 Pubs and off-licences are to limit opening times during this year's Appleby Horse Fair in an effort to cut incidents of anti-social behaviour.
About 10,000 Gypsies and travellers and a further 30,000 visitors are expected to attend the Cumbrian fair between 5 and 11 June.
In previous years locals have complained about drink-related disorder and roads blocked by refuse.
Landlords agreed to open up between the hours of 12:00 and 23:00 BST.
Robin Hooper, Eden District Council's chief executive, said: "A great deal of preparation has gone into the planning of this year's fair to help people enjoy the event safely.
"This work includes pubs and off licenses signing up to a voluntary charter and having the street cleansing operation in place throughout the fair, so that the impact of this event on the local community is minimized as much as possible."
During the event, the largest of its kind in Europe, off-licence premises have agreed to restrict their opening hours from 12:00 to 23:00 BST.
Mr Hooper said more resources were being allocated to street cleaning during the fair.