Cumbrian hospitals see rise in reported serious incidents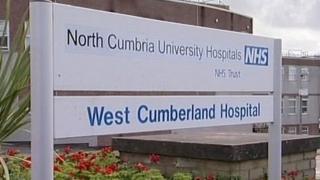 About 100 serious incidents were reported at two hospitals in Cumbria last year, double the previous year.
A report by North Cumbria University Hospitals NHS Trust found 100 serious incidents were reported in 2013/14, an increase from 44 in 2012/13.
In 2011/12 only five were reported, which the trust says is down to staff not reporting when incidents occurred.
A trust spokesman said although it was "never good" the incidents occurred, it helps them to make a "positive" change.
The incidents were reported at the West Cumberland Hospital in Whitehaven and Carlisle's Cumberland Infirmary.
In 2013/14 the trust recorded four never events, a status used by the Department of Health for incidents so serious they should never have happened.
'More empowered'
North Cumbria University Hospitals NHS Trust medical director Dr Jeremy Rushmer said: "It is never good to have never events, but it's also important to understand that we were in an organisation which didn't have a culture of reporting before, so it is good that these have been reported.
"We are now developing quite a large amount of internal expertise in responding to them, so I am happy to tell you that with the never events that have occurred recently, we have been able to make key improvements.
"I hope that our response to the never events will show that we are an open and learning organisation and are very very keen to improve."
Glen Turp, from the Royal College of Nursing, said: "Historically they [staff] were nervous and some people felt intimidated in reporting incidents before.
"So we do feel that in some areas there have been improvements and that staff are feeling more empowered to report events which is good news."
North Cumbria University Hospitals Trust was one of 11 put into special measures after the Keogh review found higher-than-expected mortality rates.