Rare snow leopards born at Lakeland Wildlife Oasis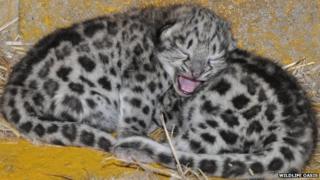 Two rare snow leopards have been born at a zoo in Cumbria.
Lakeland Wildlife Oasis, near Milnthorpe, said the cubs were born on 24 May and mum Tara had been "fiercely maternal" since their arrival.
The birth has only just been announced for fear the pair would not survive after a cub born last year lived for only 24 hours.
Director Jo Marsden said the baby leopards were "growing very well" and would be on public view in a few weeks.
Mrs Marsden said they did not yet know the sex of the cubs as the keepers and their father Pavan, had not yet met the young.
'Wow factor'
"We did have one cub last year which didn't live past 24 hours, we were absolutely heartbroken about it because everything seemed fine, it seemed a good healthy cub," she said.
"We kept it very quiet this time before we breathed a word of it because we were absolutely terrified we'd have a repeat performance.
"We have had a very good look at them, they are growing very well, they've opened their eyes now, but it will be a good few weeks before they are venturing out to the big wide world.
"They really are the most attractive cats going, I know I'm biased, but the wow factor with snow leopards, it's incredible, and baby snow leopards have it in spades."
The zoo said the animals could leave the zoo when they are older to be paired with mates as part of a breeding programme.