Cumbria hospital seeks help easing 'recruitment famine'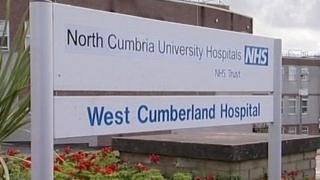 Health trusts in northern England have been asked to help tackle a staffing shortage at a Cumbria hospital.
Specialist acute medicine and emergency admission doctors are needed at the West Cumberland Hospital in Whitehaven.
Staffing issues at the hospital are long-running. In October junior doctors were taken off wards because there were too few senior staff to supervise them.
Trust medical director Dr Jeremy Rushmer said they were facing a "recruitment famine".
Only about 60% of GP training posts had been filled in the north of England so all trusts were "suffering a little bit", he said.
"We're not the only hospital in the country to have difficulties recruiting at a number of levels," he added.
"The difficulty at West Cumberland is that, when you're isolated and small, you feel the effects of this recruitment famine more keenly."