West of Duddon Sands wind farm final turbine installed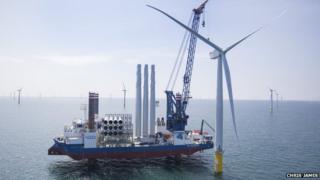 The final turbine has been installed at a wind farm off the Cumbria coast, one of the largest in the UK.
Located eight miles (12.8 km) off Barrow, the West of Duddon Sands site now consists of 108 structures.
Joint operators Dong Energy and Scottish Power Renewables described it as a "huge milestone for the project".
Once fully operational by the end of the year, the site will generate up to 389 MW, enough to power more than a quarter of a million homes.
John Hill, from Dong Energy, said: "There has been a lot of hard work from everyone on the project to get to this point."
Charlie Jordan, from ScottishPower Renewables, said: "We faced some very challenging conditions, including one of the stormiest winters in recent history, but managed to continue working on schedule.
"Over 1,000 people have been employed on this project, and everyone has worked incredibly hard help us reach this milestone."