General Election date for Copeland mayoral vote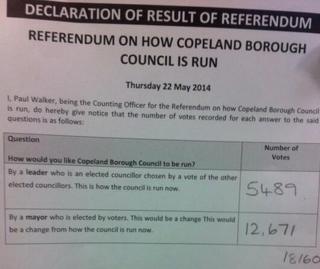 A vote to choose a directly elected mayor for a Cumbria council is set to be postponed until May to cut costs.
In May people living in Copeland Borough Council voted overwhelmingly in favour of the post.
Under current rules the election, which could cost as much as £60,000, would have to take place by October.
After requests from the council and the local MP, the government is amending legislation so it can take place at the same time as the General Election.
There had previously been concern over the cost of an election, but the council said that holding it on a day when voters would already be going to the polls would reduce the expense.
It is also hoped it would encourage more people to vote.
Jamie Reed, Labour MP for Copeland, said: "This is a new chapter for local government in Copeland and it is essential that it is engaging.
"Part of this is ensuring as many people as possible turn out to choose their new mayor.
"The most effective way of ensuring engagement is to hold this election at the same time as the General Election."