Friends of Blencathra: The people bidding for a mountain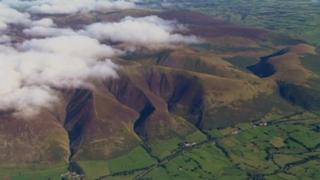 When Debbie Cosgrove first climbed Blencathra as an 11-year-old schoolgirl from London, she thought there and then that one day she would move to the area.
Now the striking Lake District mountain has been put up for sale by its aristocrat owner, she is leading a bid to take it into the hands of the citizens who love it.
"When I first climbed it, I thought I was going to die, but when I got to the top everything just made sense," said Ms Cosgrove, who now lives in Allerby, Cumbria.
"We call it the people's peak here. Seeing it means you're home for so many people."
Alfred Wainwright, the fell walker and writer, called it "one of the grandest objects in Lakeland".
'For ever, for everyone'
Now the Friends of Blencathra group, under Ms Cosgrove's leadership, has put in a bid for the £1.75m-priced peak.
The group quickly established itself as a charity and started raising funds to buy the mountain after it went on the market two months ago.
Its owner Hugh Lowther, Earl of Lonsdale, is selling it to help settle an inheritance tax bill.
Friends of Blencathra has expressed concerns about future owners not being "such good custodians", after the Lowther family's 400-year stewardship.
The National Trust said it would not bid for the mountain, because of "existing high levels of protection and public access".
The area's national park status and rights of way legislation ensure the public's right of access and protect against inappropriate development, whoever owns the mountain.
Furthermore, the land is bound by common grazing rights for local farmers, making it effectively under shared ownership.
But for Ms Cosgrove, it is less a case of preventing future harm to the land, but rather promoting a positive agenda.
"We feel if the land is in public ownership, we can engender a sense of social responsibility with that ownership," she said.
Blencathra
Blencathra rises to a summit of 2,850ft (868m)
It covers an area of about 2,676 acres (1,083 ha)
The main route to the summit is Sharp Edge, well known among climbers as a challenging ascent
The name Blencathra is thought to derive from the Cumbric words "blaen", meaning bare hill top and "cathrach", meaning chair
The more recent name, Saddleback, refers to its shape when seen from the east
The mountain has been mined extensively for lead and zinc, but the last mines have been disused since the 1930s
Source: Ordnance Survey and H&H Land and Property
The group has already spoken to local charities, including the Blencathra Centre and the Calvert Trust, with a view to promoting volunteering on the land.
"There's also things like researching local history, so we can run history tours", Ms Cosgrove said.
The National Trust is actively encouraging donations to the Friends of Blencathra.
John Darlington, North West regional director of the National Trust, said the friends group and the trust shared the idea of making places "for ever, for everyone".
He said: "Blencathra is very important to a lot of people (who) are committed to a long-term investment, in both time and money, in a place that they find very inspiring."
Worldwide support
Ms Cosgrove said she and her fellow volunteers had spent "literally every break" working on the campaign, but she thought it was "totally worth it".
"Somebody mentioned it was for sale - it was just a throwaway remark - but a few of us got together and decided to try to buy it," she said.
They have garnered significant backing, with over 6,500 members of their Facebook group alone.
Ms Cosgrove said people from as far afield as Dubai and Canada had supported them, including some who had never been to the Lake District.
Although the group does not want to reveal how much it has raised to avoid giving away too much to competitors, it confirmed it had put in an offer in time for the Wednesday deadline.
The agent managing the sale, H&H Land and Property, said it was "very excited" about the interest shown and confirmed it had received a number of bids, which are now under review.
But buying the land in the first place is not the only consideration.
The group has also acknowledged there are ongoing costs and liabilities associated with land management.
Maintaining paths, for example, or dealing with any issues around the disused lead and zinc mines in the mountain, will take time and money.
But Ms Cosgrove said she was confident they would be able to manage.
"We've already spoken to the graziers' association and there are lots of people who will help," she said.
One possible option is to donate the land to the National Trust, which is currently advising the group on land management.
But for the time being, the focus is on securing ownership.
Ms Cosgrove said: "We've made good arguments to Lord Lonsdale and he doesn't have to accept the highest bid.
"Now we'll just have to sit tight and see."