Toxic smoke alert over Carlisle recycling centre fire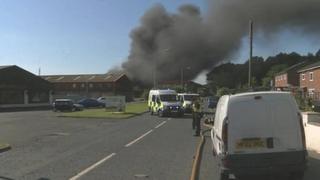 People close to the site of a recycling centre fire in Carlisle have been warned about the risks of toxic smoke.
The blaze broke out at the Cumbria Waste Management Centre on Kingmoor Road at about 16:00 BST on Thursday.
Roads were closed and nearby homes and businesses told to keep doors and windows closed amid concerns billowing smoke contained asbestos.
A spokesman for Cumbria Fire and Rescue Service said the fire was under control but smoke was still an issue.
Cumbria Police added that anyone who might have inhaled smoke and was feeling unwell should seek medical help.
The site was evacuated when the fire broke out. No-one is believed to have been hurt.
An investigation into the cause is ongoing.