Red kite chicks at Grizedale Forest after 200-year gap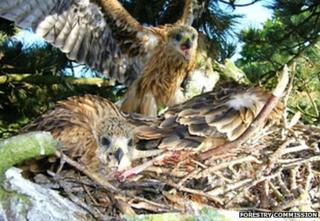 Red kites have bred in Cumbria for the first time in more than 200 years.
The Forestry Commission has been carrying out a reintroduction project at Grizedale Forest, with 90 birds released since 2010.
One of the returned pairs has now returned to nest and successfully hatched three chicks, the first confirmed breeding of red kites in Cumbria since 1807.
Iain Yoxall, who led the project, described it as "hugely rewarding".
He said: "We have been monitoring the chicks' progress and were able to ring them, as well as adding wing tags.
"This will help us to follow the chicks once they fledge and leave the nest."
Ken Hindmarch, one of the volunteers monitoring the birds' progress, said: "The buzz of seeing the return to breeding in Cumbria after over 200 years has given us all a lift."
Red kites almost became extinct from the UK between the 16th and 19th Centuries due to hunting and loss of habitat.
The Grizedale programme was the ninth reintroduction of red kites into different regions of the UK, and the final reintroduction phase in England.