'Penrith pong' deal reached after legal action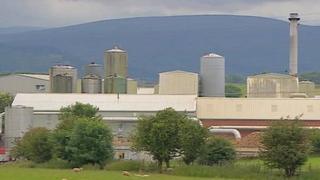 A long-running legal row involving unpleasant smells from an animal rendering plant in Cumbria - known as the "Penrith Pong" - has been settled.
For almost 20 years, families have complained about smells from the Wildriggs plant in Penrith, which processes remains from abattoirs.
At a High Court hearing in Carlisle, owners Omega Proteins agreed a deal with lawyers representing 88 families.
The settlement includes regular visits to the plant by an odour consultant.
The deal, the bulk of which remains confidential, also includes the provision of a covered trailer park for vehicles carrying raw materials.
A joint statement from the company and the families said: "The Wildriggs rendering site litigation has now been settled by way of a confidential settlement agreement reached between the parties.
"Being confidential, the full terms of that agreement cannot be disclosed."
However, solicitor Gwen Evans, who represented the families involved in the legal action, said her clients were "delighted" with the outcome.
Residents near the site complained that at times they were unable to sit outside or even open their windows because of "sickening and nausea-inducing" smells.