Black Sail hostel in Cumbria reopens after revamp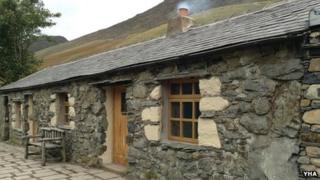 One of the most remote youth hostels in the UK, which is inaccessible by road and has no mains electricity, has reopened after a £325,000 revamp.
The Black Sail hostel in Ennerdale, Cumbria, closed in 2013 while improvements including solar panels and weather proofing were added.
The building, which the Youth Hostel Association (YHA) said was its "most remote property", is about six miles from the nearest road.
It is only accessible by foot or bike.
The YHA said the hostel, which previously had to close in winter, can now open all year round as the building has had double glazing and improved heating installed.
'Appeal of remoteness'
More storage capacity for supplies has also been added.
The building used to be a shepherd's bothy and has been a hostel since 1933.
Money for the refurbishment was donated by YHA members and a number of other organisations.
YHA ambassador and mountaineer Alan Hinkes OBE said: "I love the remoteness of YHA Black Sail.
"The fact it's only accessible with your own efforts, by foot or bike, only adds to its appeal for me."