Scotland referendum: Pile of stone starts in Cumbria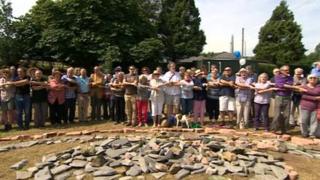 People opposed to Scottish independence have begun building a monument on the border with Cumbria.
The "Auld Acquaintance" cairn, which organisers hope will be made up of 200 tonnes of stone, aims to highlight friendship between all countries of the UK ahead of September's referendum.
It also hopes to persuade Scotland to remain with the union.
Supporters of a Yes vote said the ties would continue under an independent Scotland.
People are being invited to bring stones to the field near to Gretna in the lead up to the referendum.
Rory Stewart, Conservative MP for Penrith and The Borders said: "There hasn't been an opportunity for Scots, English, Welsh and Northern Ireland people to show they care about the UK.
"This will be a practical way for people to do so."
He had initially proposed a hand-holding event along the length of Hadrian's Wall but this was later shelved for "operational reasons".
Joan McAlpine, from the Scottish National Party, said: "This is about people in Scotland taking democratic control.
"We can have a democratic country and still be friends with people south of the border."