Carlisle council unveils civic centre department store plan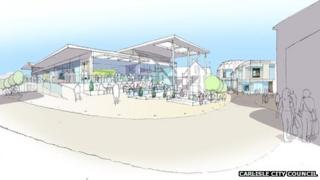 Plans to knock down Carlisle's civic centre to make way for a new retail development have been unveiled by the council.
Carlisle City Council wants to build a 200,000 sq ft department store and a number of shops and restaurants on the site of the 50-year-old civic centre.
However, the proposal would also mean knocking down several nearby houses.
The council said it was a "big decision" and it was "very keen" to reduce the impact on residents.
If the plans are approved, the demolishing of the civic centre's high-rise tower would mean the council having to find a new headquarters.
The move is part of the Labour-run council's plans from 2015-2030 to improve "retail growth" in the city.
John Stevenson, the Conservative MP for Carlisle, said any plan had to be "realistic and sustainable".
He said: "I think in regards to the Civic Centre, it has always been considered an eyesore locally and any plans to knock it down would be supported by the local community."
A public consultation begins on Monday and runs until 1 September.