Cockermouth's 'distressed fish' given helping hand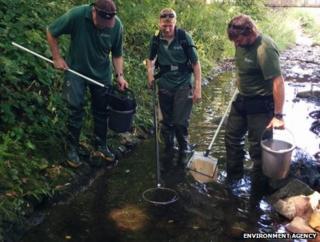 Hundreds of "distressed" fish have been rescued from a stream in Cumbria.
The Environment Agency was alerted by a member of the public concerned at the plight of a number of salmon, trout and eels in Bitter Beck, which runs through the centre of Cockermouth.
Warm weather had led to low river flows and sections of the waterway had dried up.
Officials rescued the fish which were either moved to an upstream pool or relocated to the River Cocker.
Mike Farrell, from the Environment Agency, said: "We undertook the removal as a precautionary measure.
"Those with concerns about fish in distress or any environmental incident can report it to us on our incident hotline."
Ian Creighton, from West Cumbria Rivers Trust, said: "Rescuing the fish and relocating them elsewhere helps the fish to survive and re-colonise once the river levels rise again.
"It really is a case of every little helps."