Penrith street parking charge plan opposed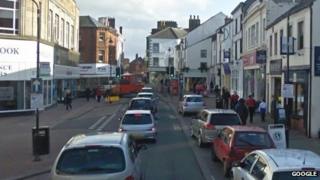 Opponents to plans to introduce on-street parking charges in a Cumbrian town, say the proposals will be too much for "hard-pressed businesses".
In May, Cumbria County Council approved plans for the charges in eight towns to help it save £700,000 a year.
But local committees decide the details of the schemes and proposals for Penrith have been rejected.
The county council said it was looking at its next steps to implement its plans in a "consistent and clear way".
'Nail in coffin'
The County Council Local Committee for Eden is the second group to decide not to consult on the plans.
The committee in Allerdale was the first to reject parking changes in Keswick.
Chairman of the Conservative-majority Eden group, councillor Martin Stephenson, said: "Hard-pressed businesses and residents fear this additional tax on the motorist will be a further nail in the coffin for traders in Penrith, hasten the closure of small shops and amplify the decline of our high-streets."
He said he hoped their stance would persuade the cabinet of the Labour and Liberal Democrat coalition-run county council to reconsider.
Areas where local committees have agreed to consult on the plans are Barrow, Carlisle, Whitehaven, Ambleside, Kendal and Bowness and Windermere.
A county council spokesman said: "As not all of the council's local committees have made a decision to consult on the Experimental Traffic Regulation Orders, we are considering the next steps in terms of what will be the best way to implement this in a consistent and clear way."
He said no consultations had started yet and that had to happen before charges could be implemented.