Barbara Bell killed when truck hit train on "dream holiday"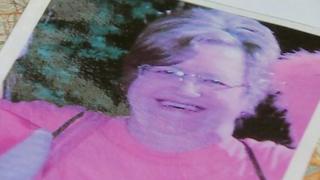 A retired teacher from Cumbria was killed during a "dream trip" to the United States when a truck skidded into her train at a highway crossing in Nevada, an inquest has heard.
Barbara Bell, of Whitehaven, was one of five train passengers who died on 24 June, 2011. The lorry driver also died.
The inquest in Cockermouth was told fatigue probably caused the crash.
West Cumbria deputy coroner Robert Chapman recorded Mrs Bell died from her injuries.
The crash happened at about 11:20 Pacific daylight time as the Amtrak train, called the California Zephyr, was struck broadside by a truck tractor and two trailers.
The inquest was told Ms Bell, who was working for a charity, had saved up for her "dream trip".
Friends, who described her as "a bit of a hippy", said she was travelling across the country and had hoped to travel to San Francisco and be photographed with a flower in her hair.
Mr Chapman said the most likely reason for the driver failing to see the warnings as the lorry approached the crossing was fatigue.
A report in the United States also found the brakes on the truck had not been properly maintained.