Carlisle civic centre: Campaigners fight for 'soulless office block'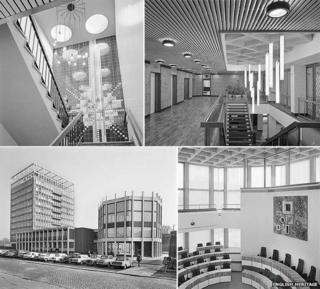 Carlisle Civic Centre could be knocked down, if one council proposal for a new retail development is approved. But despite being branded "an eyesore" and "soulless" a campaign has been launched to save the building from demolition.
You could get quite a lot for your money in 1964.
Back then, £820,000 bought the city of Carlisle a brand new civic centre made with East African olive wood, Brazilian rose wood, Japanese silk wallpaper and Finnish lampshades.
The exterior sported 37,000 sq ft (3,437 sq m) of French and Italian mosaic tiles and inside there were more electric lamps than across the city's streets combined.
It was a "grand civic and engineering statement", says John Kelsall from the Carlisle and District Civic Trust.
"In the mid-60s things were fairly optimistic," he says. "It may be there were sufficient funds around to build palaces to local government."
But now the "palace" is facing the wrecking ball.
The council wants shops, a department store and leisure facilities and has been consulting on two options.
In one only the centre's smaller, round section housing the city council chamber would be demolished. The second option would see the 11-storey tower knocked down too.
That would be a "big decision" it has admitted. Not least because it would mean knocking down nearby houses and making the council itself homeless.
There are about 500 people working in the building, including the city council, county council and police staff.
Earlier this year, the city's Conservative MP John Stevenson claimed the building had "always been considered an eyesore locally" and plans to knock it down would be supported by the local community.
But 27-year-old Carlisle designer Lydia Leith is seeking to prove him wrong.
She was not born when the centre opened and yet, "as part of the younger generation", is spearheading a fight to save it with a Facebook campaign and petition.
"Having the foresight to save a building gains respect and puts an area on the map," she says.
"Just look at Victor Pasmore's Apollo Pavilion in Durham, Morecambe's Midland Hotel, Preston's bus station or the Tyneside Cinema in Newcastle.
"It will be very expensive to, God forbid, knock the civic centre down to nothing and more money will be wasted on building an unimaginative, boring shopping centre with no social relevance or history in its place."
Signatories to her petition come from as far away as Spain, London and Ipswich and include designer Tilly Hemingway, daughter of Red or Dead founders Gerardine and Wayne Hemingway.
"I think Carlisle civic centre is a magnificent example of mid-century modern architecture and an important piece of British design history," she says.
"I am truly shocked and horrified by the plans for it to be demolished."
She is not alone. Alex Kolombos, from Wells, describes in his entry on the petition the building's "true beauty" and its "wonderful interior spaces".
New York architect Wayne Turett says: "The point is not whether you like the Carlisle civic centre - that kind of personal decision is better left for the colour of your kitchen walls - but that demolishing a building should not be considered lightly."
Leigh Venus, from Newcastle, backed Ms Leith's campaign, warning the council not to be "short-sighted".
"Once it's gone, it's gone," he said.
But that is exactly what George Ferguson wanted, back in 2004, when he was president of the Royal Institute of British Architects.
In a Sunday Times article he put the "soulless office block" fifth on a list of buildings he would like to see knocked down.
He proposed a "Grade X" listing for eyesores, intended to encourage their demolition as much as Grades 1 and 2 enforced upkeep and protection.
But the 50-year-old block is not down yet and council investment and policy manager Garry Legg insists it is "absolutely" possible it could survive.
"It's fundamental. No decision's been taken at this point to drop the civic centre," he says. "I need to stress that: no decision at all."
But the city needs more shops, he says. Many of its units do not meet the "modern expectations and needs" of today's retailers.
It is the time all this is taking that worries John Kelsall. Areas earmarked for demolition can be subject to planning blight, as an uncertain future hits property values and deters upkeep.
"This happened before with the Lanes development, once the council decided on the area," he says. "As it had no clear developer partner, years of decline followed with businesses reluctant to invest in or maintain the area."
He is not convinced the shopping centre's success was worth the long-term "dereliction" and hopes for re-development of the civic centre rather than demolition.
Ms Leith, too, imagines it housing cafes, luxury flats and even a cinema and swimming pool.
"There is so much potential in this building," she says.
"Anything is an option. Anything but knocking it down."