Workington economy boosted by Rugby League World Cup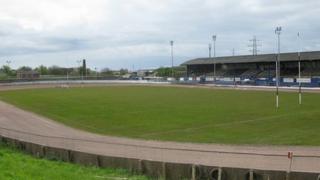 Hosting two games in the Rugby League World Cup brought hundreds of thousands of pounds into the economy of West Cumbria, Allerdale Council has said.
Prior to the 2013 cup, Workington's Derwent Park Stadium was upgraded with £350,000 from British Energy Coast, and £100,000 from the council.
Shops, hotels and other businesses benefitted to the tune of £650,000.
A spokesman for the council said it had been a fantastic effort by everyone involved.
Labour councillor Mark Fryer, who is also vice-chairman of Workington Town, said that the legacy would continue, with Scotland taking on Wales at Derwent Park in the European Championships next month.
"It's on the back of the World Cup; that's why they'll be coming back," he said.
As well as the economic boost, the games, in October and November, were important in terms of prestige.
Mr Fryer said: "It really has put us at the forefront of rugby league.
"That's one of the best things about it, because people now know that we can put on a big event."