Consolidation call for Lake District parking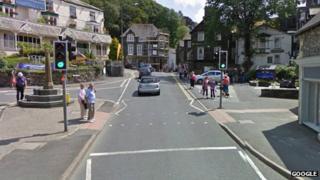 Tourism bosses in Cumbria have called for a rethink on the way car parking operates in the county.
Currently, local councils and other organisations each operate their own system, with different charges and enforcement regulations.
Cumbria Tourism wants this to be replaced by combined permits or tickets which would cover multi locations.
The National Trust, which runs a number of car parks in the Lake District, has said it would consider the idea.
'Rushing back'
Richard Greenwood, from Cumbria Tourism, said: "At the moment there's no transferable ticketing.
"A visitor who uses a car park in Keswick then moves down to Ambleside finds they have to pay twice, maybe fairly substantial amounts of money on each occasion.
"There's no chance to get one ticket, maybe in advance, which would last a weekend or a week.
"They could use it on any car park, then they are not rushing back when it's about to expire. They can relax.
"They'll also have more money to spend in shops and restaurants and other places."
He said all operators had agreed to talks on parking strategy.
The National Trust said it would consider the idea, balancing it against its core purpose of caring for the landscape.