Barrow woman makes sanitary towels from shower curtains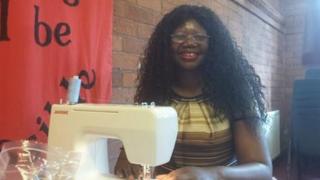 A Barrow woman is making washable sanitary pads for African villagers out of towels, sheets and shower curtains.
Tessa Simba, a nurse originally from Zimbabwe, said they are not widely available and girls with nothing to use during menstruation miss school.
In rural areas they are "always behind" in their education, she said.
"The children are using leaves, they're using cow dung, they are also using maize meal powder. All those things are so unhygienic and very uncomfortable."
In urban areas they use newspapers and tissue paper if they can get it, she said.
Volunteers at the Furness Multicultural Community Forum and St Mark's Church are making a test batch of pads.
If the project is successful Ms Simba intends to move production to Zimbabwe in the hope of creating jobs.