Does the USA have answers to Britain's plutonium dilemma?
Britain is facing the dilemma of what to do with its huge stockpile of 100 tonnes of plutonium - most of it stored at Sellafield. Should it be turned into nuclear fuel or continue to be stored? I travelled to America to find how they are trying to deal with the same issue.
The British government's favoured option is to transform the plutonium stockpile into fuel that can be used in nuclear power stations.
That would involve building a factory that can turn it into something called Mixed Oxide Fuel (Mox).
I went to South Carolina in the United States where a Mox plant is being built at the Savannah River Site.
As with all things American, it is huge.
'Massive boondoggle'
The nuclear research and development site covers some 310 sq miles (803 sq km). Sellafield by comparison is just over 2 sq miles (5 sq km).
In the US they are committed to turning 34 tonnes of military grade plutonium into Mox after signing a deal with Russia in 2000 to decommission some of their nuclear weapons.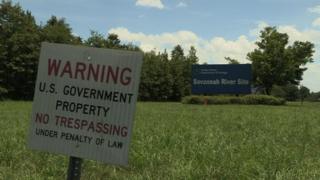 Even though their plant is two thirds complete, US President Barack Obama has halted construction as the project's original price tag of $1bn (£613m) has risen to $7bn (£4.3bn).
Tom Clements, of Savannah River Site Watch, describes the situation as a "massive boondoggle" - an Americanism for anything that has gone spectacularly and expensively pear-shaped.
He claims that the things to have gone wrong with the American Mox project are "overspending, mismanagement of the schedule, lack of quality control and lack of trained workers in building nuclear projects".
And he is concerned that those issues are not being properly considered across the Atlantic.
"It seems to me they are not following what's going on in the United States", he said.
"It is almost as if they have no knowledge of the massive problems and massive cost over-runs."
Jobs boost
But head of Citizens for Nuclear Technology Awareness, Dr Clint Wolfe, who was involved in the negotiations with the Russians, said despite the problems he believes taking weapons and turning them into energy is the right solution.
He said: "I think if we could get politics out of this and just look at technically how do we accomplish the mission, the Mox project is still the way to go."
In the community of Barnwell, near the Savannah river site, people talk of the importance of the only real employer in the area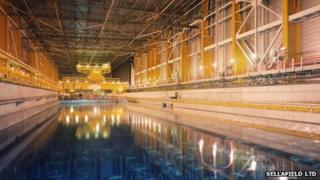 Back in Cumbria jobs are just as important. A new Mox plant comes with the prospect of 6,000 construction jobs and up to 300 skilled workers needed to run it.
However a previous Mox plant at Sellafield hit problems and closed in 2011.
Although the next generation of British nuclear power stations will be capable of using Mox, none of the operators have given any signals that they are interested.
'Handful of billions'
Head of the Nuclear Decommissioning Authority Adrian Simper says it is aware of the problems in the US and mindful of the earlier UK failure to make Mox work.
He said recent history suggested building such a plant could be "challenging".
But he added: "We work very closely with our colleagues in the US Department of Energy, we talk to them regularly and so we are learning a lot from them."
As for the cost? He could only say it would cost a "handful of billions".
The UK spends £80m a year just to store plutonium so that is not a cheap option either. A difficult choice lies ahead.
Despite three months of asking, no UK minister would go on camera to discuss the UK's plans on dealing with our plutonium.
A government decision is due next year.
See more on this story on Inside Out in the North East & Cumbria and the North West, Monday 29 September, BBC One at 19:30 BST.