Marc Bolan signed poems fail to sell at Cumbria auction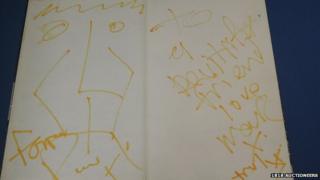 A signed book of poems by glam-rock star Marc Bolan has failed to sell at auction.
The hardback first edition of The Warlock of Love, published in 1969, has a handwritten dedication by the T.Rex singer to drummer Paul Fenton.
1818 Auctioneers in Milnthorpe, Cumbria said there was "always an element of the unknown" in such sales.
It said it had "worked hard to get the word out" that the book and other memorabilia were up for sale.
The book did not make its reserve price although Fenton is still "still keen to make a sale but at a price that makes sense", auctioneer Kevin Kendal said.
The company would not divulge the reserve but indicated it was less than the expected sale price of £500-800.
Online viewing and bidding give sales a potentially global market.
"That was certainly the case with an electric guitar we sold earlier in the year for £29,500 owned briefly by Irish blues and rock legend Rory Gallagher," Mr Kendal said.
"All of the bids came from people who weren't in the saleroom."