Girl, 10, writes to PM over West Cumberland Hospital fears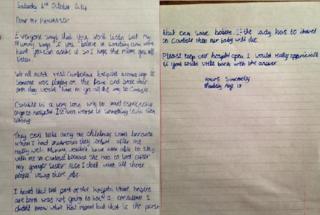 A 10-year-old girl from Cumbria has attracted attention on social media after writing to David Cameron, urging him to save her local hospital.
Maddy Snell from Frizington sent a letter to Downing Street over fears services were being downgraded at West Cumberland Hospital in Whitehaven.
She implored Mr Cameron to "keep our hospital open" and to "write back".
The NHS trust that runs the hospital has said moving services elsewhere has led to fewer deaths.
North Cumbria University Hospitals NHS Trust has moved trauma and cardiac services to Carlisle, while others are under review.
In her letter Maddy said she had been treated for pneumonia at the West Cumberland Hospital and "they looked after me really well".
The letter said: "We all need West Cumberland hospital because say if someone was playing on the park and broke their arm they would have to go all the way to Carlisle.
"Carlisle is a very long way to travel especially to go to hospital."
The letter spoke of concerns over the future of consultant-led maternity services at the hospital, which are currently under review.
"If the lady has to travel to Carlisle then her baby will die," the letter said.
Maddy also said she was worried about staff losing their jobs.
Her mother Emma Gooch posted an image of the letter on Facebook and a Twitter hashtag - #AnswerMaddy - has been created.
Ms Gooch said: "I really hope David Cameron will come back to her, because she believes he will."
Ms Gooch, who is campaigning to protect services at the hospital, chaired a public meeting about the fears surrounding it last week.
Mr Cameron told the BBC he "very much hoped" services would be kept there, but he added the decision was "for local doctors" to make.