Lake District Wildlife Park baby tortoises hatch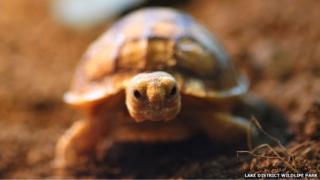 Four baby tortoises have been bred at a wildlife park in Cumbria for the first time.
The Lake District Wildlife Park, near Keswick, has been trying to breed its giant African tortoises for 10 years.
Margaret, the park's female tortoise, has laid 15 eggs, four of which have now hatched.
Reptile keeper Dan Kane said the babies, named Donatello, Raphael, Leonardo and Michelangelo after the Ninja Turtles, were "doing well".
Mr Kane said there were several layers of shell around the first batch of eggs, which meant Margaret had kept hold of them for two to three years until she felt "conditions were right".
Mr Kane added the "Sahara-type" weather in June might have emulated that of their homeland, giving Margaret the opportunity to lay the first four eggs.
He said: "It's amazing to think how many eggs she has been protecting until she felt the world was ready.
"Eggs are laid in clutches of 12-24 eggs and so far Margaret has laid small clutches and we have had 15 eggs. We have our fingers crossed that the others hatch successfully too."
The babies emerged from their "ping pong ball-sized" shells after being in an incubator for about 100 days.
African spurred (or sulcata) giant tortoises are native to Africa and have been known to live for about 160 years.
They can measure up to 90cm (3ft) and weigh up to 200lb (90kg).