Care worker William Bowman guilty of abuse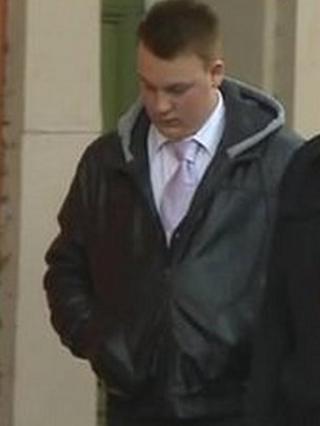 A worker at a Cumbria care home has been found guilty of sexually touching a woman with dementia.
William Bowman, 22 and of Penrith, was photographed looking up the nightdress of the 96-year-old.
He denied sexual activity, saying he was checking the resident of Beacon Edge Nursing Home was "correctly changed", but a jury found him guilty.
He will be sentenced at Carlisle Crown Court and eight others of neglect and ill-treatment on Friday.
'Maximum humiliation'
Kathryn Johnson, prosecuting, told the court: "The prosecution does not have to prove that he had a sexual motive for looking up the victim's nightdress.
"If he was looking up her skirt for a totally innocent reason, why on earth would the photographer have taken the picture?
"The photo was taken for maximum humiliation.
"Both Mr Bowman and the photographer knew what he was doing amounted to a sexual act and that's what made it funny to them."
Also sentenced will be two other workers, Claire Strong, 20, and Chevonne Benson, 23, both of Penrith, who had previously admitted charges of ill treatment and neglect.
Following the verdict, Isla Chilton, from the Crown Prosecution Service said: "The victims were lovingly placed in the care of the residential home by their families.
"It is a place where they should have been looked after and all their needs met.
"However these three employees abused the trust placed in them by their employers and the victim's families by their demeaning treatment of them.
"The physical and emotional effects on the victim's families are overwhelming.
"I sincerely hope that the fact that they have been convicted, it will bring some sense that justice has been served."