Cumbria County Council set to cut 1,800 jobs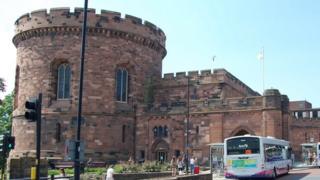 A total of 1,800 jobs could be shed by Cumbria County Council over the next three years as it looks to make further savings of £83m.
Deputy leader Patricia Bell said it would mean "the biggest cuts the council has ever seen" and warned services would be hit.
It has already identified savings of £130m per year after its funding from central Government was reduced.
Union leaders described the proposed job losses as "quite horrific".
Ms Bell said: "Losing another 1,800 staff will impact on lives, families and our local economy.
"It will be very painful but there is no alternative.
'Incredibly tough'
"It has taken a massive effort to identify the £130m of savings a year that we've already found, but the next three years of cutting a further £83m is going to be incredibly tough."
The council said "most" of the savings will come through reorganising the way it is run.
It has proposed a 2% rise in the share of council tax which it receives and intends to cut grants to organisations such as the Lake District National Park and Cumbria Tourism.
If the proposed 1,800 jobs are lost, the council said staffing, excluding school employees, would be down to 5,200 - almost half the number it once had.
Unison's Dave Armstong said: "People are working tremendously hard trying to keep the council services going for the vulnerable people in Cumbria and these type of cuts will mean that it will become just about impossible to provide those services.
"Certainly we weren't aware of this scale of job cuts and it is quite horrific."
The consultation will run until 20 January with the budget finalised the following month.
A list of the proposed savings can be viewed on the authority's website.