Text trail revealed 'despicable' Cumbria care home abuse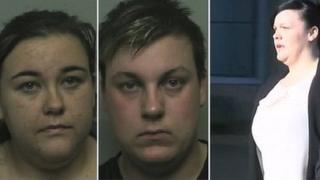 Video, photographs and text messages were the key to this difficult police investigation.
The victims of the abuse at the Beacon Edge Nursing Home in Penrith, Cumbria, suffered from dementia so were unable to tell anybody what was going on.
But the offenders' mobile phones proved a valuable source of information, leading the detective investigating the allegations to thousands of incriminating texts.
Officers from Cumbria Constabulary's public protection unit were alerted to allegations of abuse at the Bupa nursing home when a colleague witnessed the way Chevonne Benson and William Bowman were treating residents.
They and another carer, Claire Strong, were suspended from duties straight away.
'Clearly vulnerable'
Det Insp Roy Ledingham, from the unit, said: "This was a very, very difficult investigation simply because the victims couldn't tell us what happened. We had to conduct the investigation by other means.
"We were able to piece together through thousands, literally thousands, of texts that offending had been going on. We were able to identify who had been offended against.
"It's staggering to look through all the text messages to see the way these three had conducted themselves and were treating people who were clearly vulnerable.
"What [the families] expect is professionalism, compassion; they expect their relatives to be cared for and clearly the three people weren't doing that. In fact they were abusing the residents in that home."
Text messages sent between Benson and Bowman when they were not on shift together showed how they would describe the abuse to one another.
Text 1 : June 2013
CB: braying them don't feel as good without you lol. xxx
WB: Who u brayed? xxx
CB: I went into her room while she slept and pulled her hair and quickly ran out. Now she is shouting she is frightened. Hahahha. Xxx
Text 2 : March 2013
CB: Told her she had to move out cos she hasn't paid her bills . haha.
WB: Howling !!!
CB: I said ... all your stuff has been sent to the tip. Haha
WB: ur getting good!! ……..
A video shot by Strong showed Bowman tormenting a woman in her 90s by poking her in the head and chest. She is visibly distressed and tries to defend herself.
Other photographs showed a woman who had fallen, left lying on the floor; a woman struggling to dress herself; and another woman in her 90s having her nightdress lifted and looked up by Bowman, 22, of Penrith, who was found guilty of sexually touching a woman with dementia.
Bowman was sentenced to three-and-a-half years in prison who admitted eight charges of neglect and ill-treatment of patients.
Claire Strong, 21, and Chevonne Benson, 23, both of Penrith, were sentenced to one year in prison and three years in prison after previously admitting three and 10 charges respectively of ill treatment and neglect.
The daughter of one of the victims said her mother had shown physical signs of the abuse she was suffering, and told her that people had been in her room at night.
She said: "She wasn't changing her clothes, she wasn't getting her hair done, she had black circles around her eyes obviously because she wasn't getting any sleep because she was terrified all night.
"I do think that she tried to tell me and I just thought it was one of her dreams.
"The worst has happened to them by getting dementia; you don't think anything worse is going to happen after that, do you?"
Police say Strong admitted straight away in interview that she had photographed the abuse and she gave guilty pleas to three charges at the earliest possible stage.
Det Insp Ledingham said Bowman and Benson had shown no remorse and tried to blame others for their actions. He called their actions "despicable".
The families and police are confident the abuse at the home has ended, and a new manager has been installed.
Nine members of staff have been suspended.
The daughter of the woman abused added: "I knew [my mother] had sort of come back to me because I walked in and she was sitting with a smile on her face, the black eyes had gone and she's had her hair done and she had nice clothes on. And I felt my mum was back - well as much as she can be back."