West Cumberland Hospital's maternity options revealed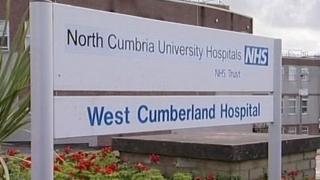 Health bosses in Cumbria have revealed three options for the future of maternity services.
Two of the proposals by North Cumbria Hospitals NHS Trust involve withdrawing consultant-led services at West Cumberland Hospital in Whitehaven.
A third would be to retain the unit in Whitehaven, as well as the one at Carlisle's Cumberland Infirmary.
The trust said it had no preferred option and there would be no decision without a public consultation.
The plans are part of a review of crucial medical services, which the trust is undertaking in a bid to get out of the special measures it was placed in after high death rates were found following the Keogh review.
In September, thousands of people took part in a rally in Whitehaven to protest about some services being moved to Carlisle and Hexham.