Mary Queen of Scots effigy row sparks Carlisle Council u-turn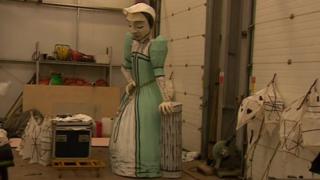 An English council has backtracked after claims its plans to burn an effigy of Mary, Queen of Scots were insensitive so soon after Scotland's independence referendum.
Carlisle City Council planned to burn the figure in its annual bonfire.
But it made a u-turn after some councillors complained.
Mary was held in Carlisle, less than 10 miles from the Scottish border, in 1567 and spent most of the rest of her life in captivity before being executed.
The plan was to burn the effigy on Saturday evening on a pyre made to look like Carlisle Castle, where Mary was imprisoned.
'Never a good time'
Following complaints the council will spare Mary, but the fire will still go ahead.
Conservative councillor John Mallinson said: "It comes at a time when we've just had a referendum on whether Scotland wished to leave the union or not.
"I don't think there would have been ever a good time to burn an effigy of Mary, Queen of Scots."
Labour council leader Colin Glover said: "We don't want to upset anybody. It wasn't linked to any other idea, other than telling the story of Carlisle's turbulent history."
Mary was a dangerous figure to the English crown in the 16th Century, being a Catholic with a claim to the English throne as Elizabeth I's second cousin.
She was forced to abdicate the Scottish throne in 1567 after losing the support of her nobility.
She spent most of the rest of her life a prisoner, before being executed in 1587.
Her estranged Protestant son James VI of Scotland succeeded Elizabeth and became James I of England in 1603, as the two crowns were united.