Walney offshore wind farm in double size plan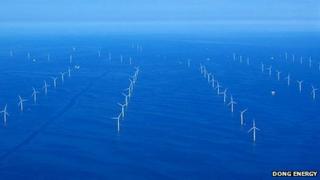 Plans to double the size of one of the world's largest offshore wind farms are to be put to the Energy Secretary.
The Walney facility in the Irish Sea, off the coast of Cumbria, already has 102 turbines.
Dong Energy wants to add up to an additional 104 turbines. Its proposal has been given the go-ahead by the Planning Inspectorate, which reviews national infrastructure applications.
A final decision will now be made by energy secretary Ed Davey.
If approved, work on the new turbines could be completed by 2017 and will cover an area of about 57 sq miles (149 sq km).
The offshore wind farm is one of four in the area - the Irish Sea is noted for its high tides and windy conditions.