Teaching assistant Helen Turnbull cleared of sex with boy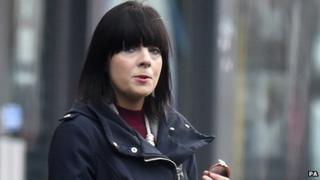 A teaching assistant has been cleared of having sex with a 16-year-old pupil but received a suspended jail sentence for kissing him.
Teesside Crown Court heard that Helen Turnbull, 35, had sex with the boy in her Mini convertible, but the jury found her not guilty of three charges.
However, Turnbull was sentenced for kissing the boy and sending him sexual text messages, which she admitted.
Judge Peter Armstrong heard the mother of two's life had been ruined.
Underwear photos
The court heard that Turnbull, from Haswell in County Durham, has lost her job as a literacy assistant and contact with her two children after she pleaded guilty to one count of sexual activity with a child by a person in a position of trust in relation to the kissing.
She admitted kissing the boy in secret meetings in her Mini convertible and sending him pictures of her in her underwear.
Turnbull sobbed in the dock at Teesside Crown Court when the jury cleared her of three further counts relating to allegations she had sex with him.
Judge Armstrong said she became "emotionally and physically" involved with the boy when she was unhappy in her marriage to her husband.
The couple have since divorced.
'Not just spontaneous'
Turnbull groomed the boy to an extent, the judge said, by building up his trust in her.
He told her: "He was attractive to you, you were attractive to him and, unfortunately, a relationship developed which should never have developed. You knew that.
"This was not just a spontaneous coming together, kissing. There was a build-up to it which we have all seen in the considerable messaging traffic which went on between you."
The judge said the pupil fully consented to the relationship and, had he not been at her school, no offence would have been committed.
He added: "I think you feared the worst at the time this was happening but you were unable to prevent yourself getting involved with this young man."
Judge Armstrong sentenced her to four months in jail, suspended for two years, ordered her to carry out 200 hours of unpaid work and imposed a restraining order to keep her away from the boy. She must remain on the sex offenders register for seven years.
Turnbull has been barred from working with children and will never teach again, the court heard.