World's Biggest Liar title won by Maryport publican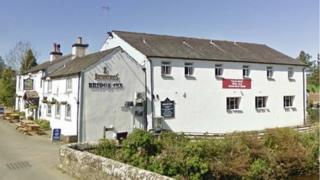 A yarn about a wooden car has gained a Cumbria man the title of the World's Biggest Liar.
The annual competition, held at the Bridge Inn, Santon Bridge, attracted nine entrants, one of whom had travelled from Germany to take part.
George Kemp, a publican from Maryport, took the crown with a tall tale about his wooden car, which "wouldn't start".
Dating from the 19th Century, the contest is held in honour of famous fibber Will Ritson, a Wasdale landlord.
He once claimed that the local turnips were so big that people had to "quarry" into them for their Sunday lunch, and they could then be used as sheds for the Herdwick sheep from the fells.
Contestants have up to five minutes to tell the biggest and most convincing lie they can, in front of a panel of judges and the audience.
Entry is barred to journalists, estate agents, lawyers, double glazing salesmen and politicians on the grounds that they are "professional liars".