Crinkle Crags stranded hill walkers' luggage stolen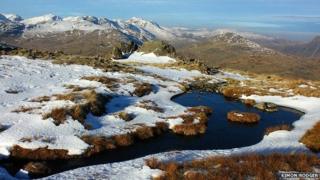 A group of hill walkers had their bags stolen while they were stranded overnight on a Cumbrian mountain.
The five became stuck in the dark on Crinkle Crags near Langdale on Saturday evening.
They were found by a Langdale Ambleside mountain rescue team (MRT) search dog and helped back down to Wrynose car park at about 03:00 GMT on Sunday.
One of their cars had been broken into and all their luggage was taken while they were stuck on the mountain.
Cumbria Police is investigating the theft.