Cumbria firearms amnesty nets 130 weapons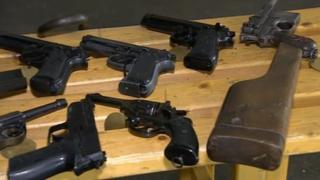 A firearms amnesty in Cumbria has resulted in 130 weapons being handed in to police.
They include 37 shotguns, 15 rifles, 13 pistols and two revolvers as well as associated ammunition.
The amnesty, which ran from 10 November until 21 November, followed changes to firearms legislation in July.
Ch Insp David Bosson, of Cumbria Police, said most of the firearms were probably correctly licensed, but now unwanted by their owners.
"We are really pleased with the number of firearms and ammunition that were handed in," he said.
"Every firearm or piece of ammunition that was recovered is one less that could fall into the hands of a person with criminal intentions.
"Many of the firearms and shotguns that were surrendered may have been correctly licensed but unwanted by their owners. The amnesty provided an opportunity for them to dispose safely of their items.
"Everything will now be examined and classified."
In July, the maximum jail term for possessing an illegal gun was increased from 10 years to a life term.