Barrow councillors reject Furness Abbey housing plans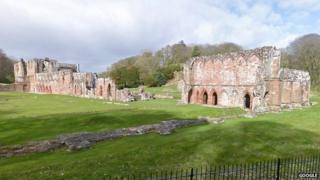 Plans for a housing development near the ruins of Furness Abbey in Barrow have been rejected.
The town's planning committee voted unanimously against the proposals for 38 terraced, semi-detached and detached houses.
Carlisle-based Story Homes had applied to build in a field adjoining the Grade I listed abbey precinct wall.
The company's development planner David Hayward said the wrong decision had been made.
"We feel Barrow needs new homes, it needs new executive homes, we had the evidence telling us that," he said.
Paul Littlewood, who led a campaign against the plans, said it was "not against Story Homes and it was certainly not against development in the town, it was just this site".
The company has not decided whether it will appeal against the decision.