Work begins on £12m Carlisle airport revamp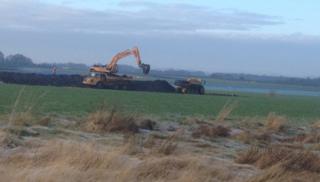 Work has begun on a £12m scheme which could see passenger services return to Carlisle Lake District Airport.
Earlier this year Carlisle Council approved plans by Stobart Air to redevelop the city's airport, safeguarding 800 jobs.
The initial phase of the project will see the construction of a freight distribution centre.
But the company also plans to reintroduce passenger services, with direct links to London and Dublin.
Opposition to the development raised concerns about increased traffic, but supporters said passenger flights would boost tourism and attract further investment.
A spokesman for Stobart Air said the air distribution centre should be completed by mid-2015.
He added: "The intention is that passenger flights will eventually operate from Carlisle Lake District Airport to Stobart Group's sister airport at London Southend.
"The other key route will be to Dublin Airport, providing opportunities for seamless connections to a number of destinations across the USA and Canada."