Work begins on Workington's £11.3m leisure centre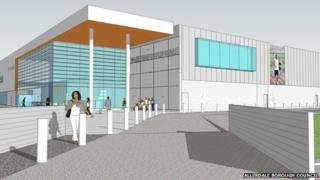 Work is starting on a multimillion-pound sports centre complex in west Cumbria after years of debate.
Site clearance is getting under way after the scheme in Workington was given the final go-ahead last month by Allerdale Council.
The Brow Top area was chosen after a consultation but the plan was met with opposition.
The existing leisure centre at Moorclose is set to close once the new facility opens.
Built about 40 years ago, the council argued it was outdated. Plans for a replacement were first mooted more than a decade ago.
Labour councillor Michael Heaslip said: "We will have a leisure centre that isn't falling down and it will cost a lot less to run.
"It will be a brand new facility, slap in the middle of Workington, so town centre traders will benefit from it."
Building work will start after Christmas.
As well as an eight-lane, 25m swimming pool and a separate learner pool, facilities will include a sauna, steam room and fitness suite.
Most of the 1,600 people who participated in last year's consultation preferred the Brow Top site, according to Allerdale Council.
Independent councillor Denis Robertson, whose ward includes the current leisure centre, said: "I honestly believe the community at Moorclose has been totally let down by councillors.
"We've not only lost the sixth form, but it looks like we're going to lose the school in the very near future and now the baths and the sports complex."