Cumbria County Council smaller offices move to save £900k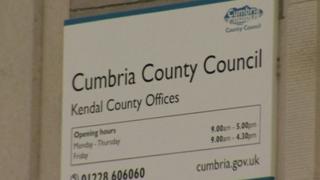 A county council is to downsize to smaller offices in a bid to save £900,000 a year.
Cumbria County Council, said it was shutting 22 old offices and would operate from two new buildings in Carlisle, to reduce running costs.
The authority has already announced it is reducing its workforce by half - 1,800 jobs are to go by 2018.
A spokesman said bringing old buildings up to standard would cost £13m and this was not an option.
Councillor David Southward, said: "The organisation has to downsize and has to cut its property overheads by selling its older, inefficient buildings that we can no longer afford to run and maintain.
"Moving to modern, fit-for-purpose accommodation with lower overheads is the only way the council can make its downsizing deal work and be ready to face the future."
The new buildings will be on the current site of the William Street car park, and staff will relocate by spring 2016.