Scafell Pike film: Stunning views from year on mountain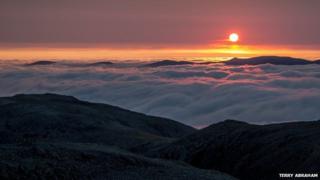 Terry Abraham describes his film about England's highest mountain as "my baby".
The outdoor filmmaker spent a year shooting a two-hour documentary about Scafell Pike in the Lake District, capturing its beautiful views and hearing from people who work and spend time there.
After its premiere and DVD release last year, Life of a Mountain: Scafell Pike has made it on to TV, with an abridged one-hour version set to air on BBC Four.
"It took me by surprise to be honest with you, especially with it going on mainstream television," Mr Abraham said.
"It's not something I intended to do with the project initially. I just did it for myself. It was a passion, my baby, as I called it back then."
Mr Abraham spent days at a time camping wild on the mountain, as he carefully found the right shots.
"I think it's the spectacle, seeing the one mountain through the seasons, the people, the culture.
"You know in that respect it's quite unique, but it wasn't actually deliberate; it's just something I've always personally wanted to see.
"There's a four, five-minute sequence where we see the Scafells just at night, so we see the milky way gliding over and shooting stars and things like that.
"It's been quite moving for me, seeing how people have reacted to the full film. The press seem to like it and there's lots of nice reviews coming out."
Mr Abraham described choosing which scenes to cut out for the one-hour broadcast version as "heart-wrenching".
It will be shown on BBC Four at 21:00 GMT on Wednesday.