Cumbria Police confirms it will cut 155 frontline officers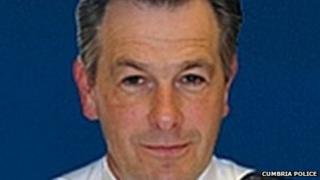 Cumbria Police is to lose more than 150 frontline officers as it faces £10.8m of funding cuts.
The county's police and crime panel agreed the move at a meeting earlier and said it would save £4.3m.
It will see the force's officer numbers reduced by 155 posts, from 1,132 to 977 by 2019.
Last week, Jamie Reed, Labour MP for Copeland, said people in the county were "very concerned" by the proposals to cut staffing levels.
Chief Constable Jerry Graham told the meeting having 977 officers by 2019, would mean the force was very close to the minimum needed to provide effective services.
At the meeting, a proposal was put forward to increase the amount the force receives from council tax, by 1.9% for 2015/16.
The rise would mean an extra £3.96 for the average band D home.