Cumberland Infirmary cancels operations over norovirus outbreak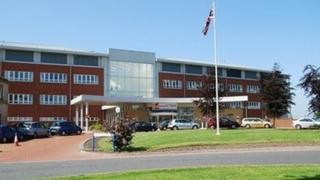 All non-emergency operations have been cancelled at a Cumbrian hospital following an outbreak of norovirus.
Health chiefs said the number of patients at Carlisle's Cumberland Infirmary affected by the illness, also known as the winter vomiting bug, "remains high".
People are also being urged to stay away if their visits are not essential.
On Friday, North Cumbria University Hospitals NHS Trust barred children from visiting until further notice.
However, exceptional visiting for youngsters can be arranged by prior agreement with the ward manager, the trust said.
Visitors are being limited to two people per bed and next of kin only.
Dr Jeremy Rushmer, medical director at the trust, said: "Unfortunately we have had to take the decision to postpone all non-urgent operations at the Cumberland Infirmary this week.
"We apologise to our patients and we have contacted all those affected by this individually. We will endeavour to reschedule their operation as soon as we can.
"It is important that we reduce the spread of norovirus as soon as possible in order to protect our vulnerable patients and ensure there are beds available for emergency admissions coming into the hospital."
On Friday, the trust said 12 wards at the hospital had patients with norovirus or its symptoms.