Alfred Wainwright's Lake District landscapes 'captured'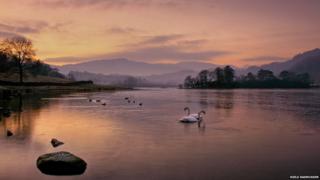 Photographers have captured the spirit of fell walker Alfred Wainwright's Lake District with a series of landscape pictures.
Wainwright, who died in 1991, was a historical and cultural figure for Cumbria, compiling drawings of 214 fells over 10 years of exploration.
Fifty years after he wrote about his first Lakes walk in 1952, the Wainwright Society was formed to keep alive the things he promoted through the guidebooks.
Since 2003, the society has run an annual photography competition for its 1,000 members.
The famous Pictorial Guides to the Lakeland Fells were some of the first books written about the region.
The hand-drawn and handwritten guides were compiled between 1952 and 1966, when Wainwright spent his spare time exploring in all weathers.
The books are still popular and have remained in print since 1955.
In 1984, he collaborated with the photographer Derry Brabbs for another series of books.
Mr Brabbs has continued his relationship with Wainwright by judging the society's photography competition each year.
More than 70 entries, from moments of dramatic weather to the "perfect symmetry" of mountain and reflection, were submitted.
One of the winning entries was one of Langdale by Andrew Clayborough.
"This is a fabulous picture and one that absolutely epitomises the magic of the fells," Mr Brabbs said.
"The framing is just perfect and the combination of silhouetted hillsides falling into the valley floor laden with sunlit mist have created one of the best pictures of Langdale I have seen."