Search begins for first Cumbria WPC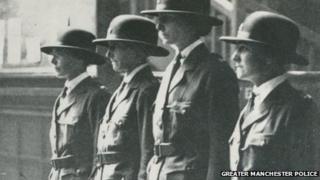 To mark the 100th anniversary of female police officers, Cumbria wants to trace its first female recruit.
The Women Police Service was founded in 1914, and in 1915 the Grantham force swore in a Mrs Edith Smith.
Women now account for 40% of Cumbria's officers, believed to be the highest proportion in England and Wales.
As part of the centenary, the force (previously Cumberland and Westmorland) wants to track down early recruits and is asking the public for its help.
Det Supt Cath Thundercloud said: "We are really keen to find out who the first female police officer in Cumbria was, in order to celebrate this pioneering woman.
"From some initial research we believe the earliest appointment may have been a Dorothy Mary Dixon, who served from 22 January 1949 to 13 August 1960.
"Maybe someone knows who she is, or knows of an earlier female officer in Cumbria.
"We'd love to hear from you."