Cumbria council tax payers 'support rise'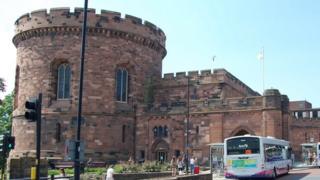 Residents in Cumbria support increasing council tax to avoid further cuts to services, the county council has said.
The tax has been frozen for the past four years.
More than two thirds of respondents to Cumbria County Council's budget consultation were in favour of a 2% rise to protect services, it said.
Deputy leader Patricia Bell said people were "loud and clear" that they valued public services and understood a fifth tax freeze was unaffordable.
"We still need to find £33m in savings, as well as delivering on every single saving we've mapped out so far," she said.
"Freezing council tax would just make that target even further way."
About 620 people responded to the council's consultation.
The draft budget, which will be considered by the council's cabinet on 5 February, includes £32.6m savings on top of £127m already made since 2011.
The council needs to have saved £211m by 2018, it said.
Replacing all councils in Cumbria with a unitary authority would save an estimated £28.3m, which 75% of consultation respondents supported, it added.