Pc George Russell: Service marks 50th anniversary of officer's shooting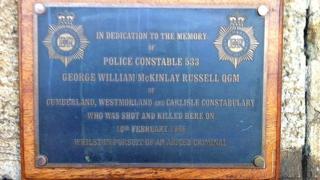 A ceremony has taken place at a Cumbrian railway station where a police officer was killed 50 years ago.
PC George Russell was shot and fatally injured at Oxenholme railway station on 10 February 1965.
He and a number of colleagues had been involved in a stand-off at the station with a suspected car thief who was in possession of a stolen gun.
Cumbria's present chief constable Jerry Graham will be among those attending a remembrance service later.
A memorial plaque was erected at the station in 2007.
PC Russell was one of a group of officers sent to Oxenholme station in the hunt for a car thief from Warrington, John Middleton.
Middleton had already fired on officers in Kendal and when police trapped him in the station waiting room, he kept opening the door and shooting.
PC Russell, who was unarmed, was killed and another officer seriously injured.
The father-of-two, who is buried in Carlisle, was posthumously awarded the Queen's Police Medal.
Middleton shot himself but survived and was later committed to a psychiatric hospital.