Cumbria County Council confirms 1,800 jobs will be cut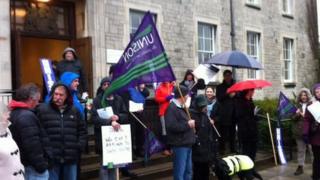 A total of 1,800 jobs are to be cut by Cumbria County Council over the next three years as it looks to make budget savings of £83m.
The council announced a 1.99% rise in council tax to "mitigate the impact of cuts" and protect frontline services.
The budget plans were agreed at a meeting of the full council at County Hall in Kendal earlier.
Union leaders said the job losses were "horrific" and would make it "just about impossible" to deliver services.
The council's net revenue budget for 2015/16 is set at just under £381m.
'Work differently'
Councillor Patricia Bell, deputy leader and cabinet member responsible for resources, said: "This budget is the most drastic step yet in reducing the size of the organisation, and cutting the back office.
"By 2018 the council will be roughly half the size it was at the start of the decade and this means that we need to work differently, delivering services in new ways, reducing demand for services and getting things right first time.
"We are reshaping our budgets so they are more locally focused."
The increase in the council's share of council tax would equate to an extra 44p per week on a Band D property.
Unison's North West regional organiser Dave Armstrong said: "This latest announcement means the county council workforce will have halved in size since 2010, from 10,000 to 5,000.
"This level of cut cannot be made without seriously damaging our local economy and social fabric."