Kendal Town football chief resigns in 'banter' row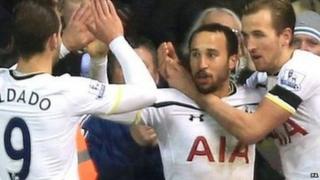 A director of a non-league football club has resigned after being charged by the FA for posting "abusive and insulting comments" on social media.
Kendal Town's Graham O'Callaghan, a Chelsea fan, wrote comments relating to Tottenham Hotspur and the upcoming League Cup final on his personal Facebook page.
He told BBC Cumbria he was not anti-semitic and saw it as "banter".
He has until 25 February to respond to the charge.
Commercial manager Mr O'Callaghan, wrote: "yes, Chelsea versus the yids cup final".
The FA said the posts were "aggravated" as "they include a reference to ethnic origin and or race and or religion or belief".
'No malice'
Tottenham have a strong Jewish following and and have been the target of abuse from opposition fans.
However, some Spurs supporters use the term - meaning Jew in Yiddish - in an act of defiance.
Mr O'Callaghan said: "There was no malice in the remark whatsoever. As far as I'm concerned it's a bit of banter, it's what Chelsea fans have always referred to Tottenham as.
"To the best of my knowledge it is not anti-semitic in any way.
"I've actually visited Auschwitz on more than one occasion and was very moved by what I saw. I would recommend other people to visit."
Kendal Town announced Mr O'Callaghan's resignation on its Facebook page.
It said: "Whilst these postings are not linked, supported or endorsed by Kendal Town Football Club in any way, Graham has tendered his immediate resignation from all official duties to prevent any inadvertent connections being made.
"Graham has given much time and energy in support of our club and has decided to make the sacrifice of his official position by stepping down to prevent any accidental links or embarrassment that may be caused."