Penrith Mansion House sale project gets cash injection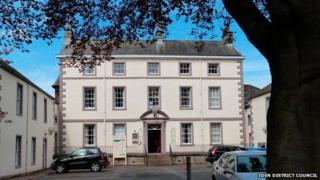 Further spending on a £700,000 scheme to move council services in Penrith under one roof has been criticised.
Eden District Council wants to move services to the town hall from Mansion House but cannot sell the old building.
It has already spent money buying land, demolishing the old magistrates' court and building a car park.
But the project has been given a further £46,000, for which an opposition councillor said there was no "financial argument".
The extra cash was awarded to work out the project's future cost and explore options for the property.
Proceeds from the sale or lease of the Mansion House and the Corney Square premises in Penrith were to be used to fund a town hall extension.
'Questionable arithmetic'
It would have housed all the council's offices, apart from the tourist information centre and the Penrith and Eden Museum, on one site.
The move would have saved about £100,000 a year in running costs, the Conservative and Independent Alliance coalition council said.
However Liberal Democrat group leader Robin Howse questioned whether that amount was achievable.
Consolidating council services on one site "made a lot of sense", he said.
But the council had been offered only half what it was seeking for the Mansion House, which has been on the market for three years, and "the arithmetic started to be very questionable".
"At the moment there is no financial argument that can be put forward as far as I can see to justify further expenditure on the project," Mr Howse said.